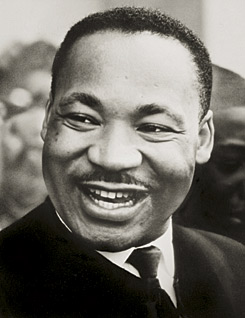 MARTIN LUTHER KING, JR.
b. January 15, 1929 - d. April 4, 1968
What a wonderful difference his life made!
*****************************
*****************************
MY "MAJOR AWARD"
That's right. Just like the Dad in "A Christmas Story", I value and highly covet major awards, LOL, especially cyber ones. And thankfully, no fishnet leg lamps have to sit in my living room.
I want to thank
Tina
and
Lida
for awarding me this in March, and
Lynn
in April:
The rules for the *you make my day award* are to re-present it to 10 people whose blogs bring you happiness and inspiration and make you feel happy about blog land. Let them know through email or by posting a comment on their blog so they can pass it on. Beware you may get the award several times yourself, and if you do, consider yourself really, really loved:
So I'm passing on the award to the following people (in no particular order):
1.
Kim L.
2.
Kim KT
3.
Katy
4.
Sandi
5.
Vicki
6.
Cheryl
7.
Jenna
8.
Gina
9.
Heather
10.
Noelia
*****************************
*****************************
MONTHLY MISCELLANEOUS:
I've taken lots of photos and collected tidbits of info in the last month to use here on the old blog, but as often happens with me, I either forget to upload them or I'm not in the mood or situation to bother getting into the detail needed to explain. And this past month has been a real black hole for my free time, what with tax returns and policy research.

Well, today I thought I'd try to get some of these out of inventory and into the light where they belong, so to speak.
Some things I've been into lately:
Here it is, April, and I still have not finished altering my 2008 art calendar I started back in January! Argh! I'm using it to keep track of the birthdays and dates of my artsy friends, as well as deadlines for swaps and challenges, and although not having it decorated does not stop me from using it, it still bugs the bunion outa me, so I'm making it a goal item for April.
Back in January, on
Flickr's Inspiration Boards group
, I saw people making these on their walls to help them keep their notes and inspiring papers out and visual. Soon, this morphed into people using these to show off their little pieces of art or pretty images, whatever, which is also inspiring. I've been wanting to make one for my wall and even decided where it would go, but was a bit shy about sticking the thumb tacks into a pristine wall. One day I just did it, and I'm glad I did. I'm using this one to hang my art after I finish it to "cure" a bit. And I plan to make more inspira-lines in other places. One cool thing about them is they can be as long or as short as you need them to be. And, they are really easy as pie to string up: just start at one end and then the other.
Aren't these pretty? (See? I even strung some more line under my bookshelves over my desk, LOL.) I took an afternoon not too long ago to work on cling-cushion my background stamps, and made up some image sheets for my stamp binder while I was at it.
I keep most of my stamps in VCR tape cases by theme, and these were all thrown into the cases, no rhyme or reason.
I have finally created a system for organizing these case contents. I make chipboard inserts that have glossy photo paper adhered to one side where the stamps cling to the surface, and have sticker paper on the other side where I stamp the images. That way I can pick up an insert and know what which stamp each image belongs to. It really makes it easier to see what I have in there. Only a million more cases to fix up this way, but at least I have a plan now.
Well, this entry is becoming a mile long so I will call it quits for today. Have a great weekend, everyone!