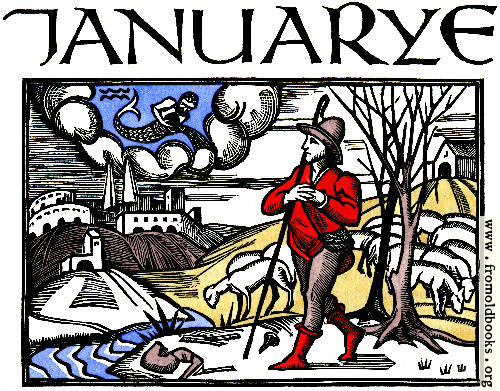 ... or attempts to, anyway. With me, it's always done by thinking and sculpting ideas.
I thought a lot this weekend about things: life, the new year, attitude, commitment, tasks, goals, dreams. I'm not sure I reached any concrete conclusions, but I do think I have some good leads about the directions in which I want to travel this year. And as I go about writing them down for you, I'm frankly amazed, just a little.
I realized how out of the loop and clueless I was just days ago. It's as if I've been piddling along in my own little world. Well, heck, I have been doing exactly that. Things I knew in my head needed to be decided this time of year were just not showing up on my radar, and I think it was on purpose. I need to ease into this year for some reason. This must be where the "No deadlines" thing is coming from. Anyway, none of these things actually are required of me, but now's the time to set them up if they are going to be done at all.
First, I've decided that
the entire month of January
is my time to celebrate New Years. It's all too much for me to have in place by 1/1, especially since I'm such an unrepentant slowpoke. Longer if I need it, and I probably will.
Second, what's my
Word?
This is not as easy to decide as choosing
focus
last year. I know the convention is one word, one little word, in fact; but, the Rebel in me is yelling. For one thing, I'm not feeling any one particular word over another. I mean, I have a list of like, 6. But no luck narrowing down to one. For another thing, I'm a fan of alliterative language, and I've been very fixated on two phrases using 4 rhyming words. It sounds really cheesy too, but it's where I want to explore right now.
Dare
to
Bare
...
Share
to
Care
....
Visions of Care Bears keep littering the view. Half of me is almost ready to just accept them and incorporate them into the view, along with the rainbows that also appear. Pesky little devils. Yup, cheesy alright. Very too much 80's, right? Don't mean to, but the subconscious must want it badly.
I've almost decided to go with this WordQuad and just be different. I'm calling it One Little WordQuad. My Rebel side loves it. (rebel = artist)
Okay, it's official: I just blogged it in a comment to Ali herself, so no turning back. (Not that anyone is going to notice it, that is, LOL).
I had so much more to mention, but I'm needed elsewhere right now. I'll close with the 2peas blogger challenge for Today:
Do you try to get current pictures of yourself by doing a self photo shoot or having someone take them of you? If you have recently taken some new photos share with us
I actually do both now. Started a few months ago and already have double the photos of myself. (This sounds voluminous, but it really speaks more to how few photos I made of myself prior to now.) I've played with making typical MySpace-type self-photos (failing miserably and looking totally dorky), as well as bugging more people to snap the shutter for me. Both have their drawbacks, but I'll continue this way indefinitely.
Here's a favorite one from the holidays, of me with my Missy:
Have a great Monday!